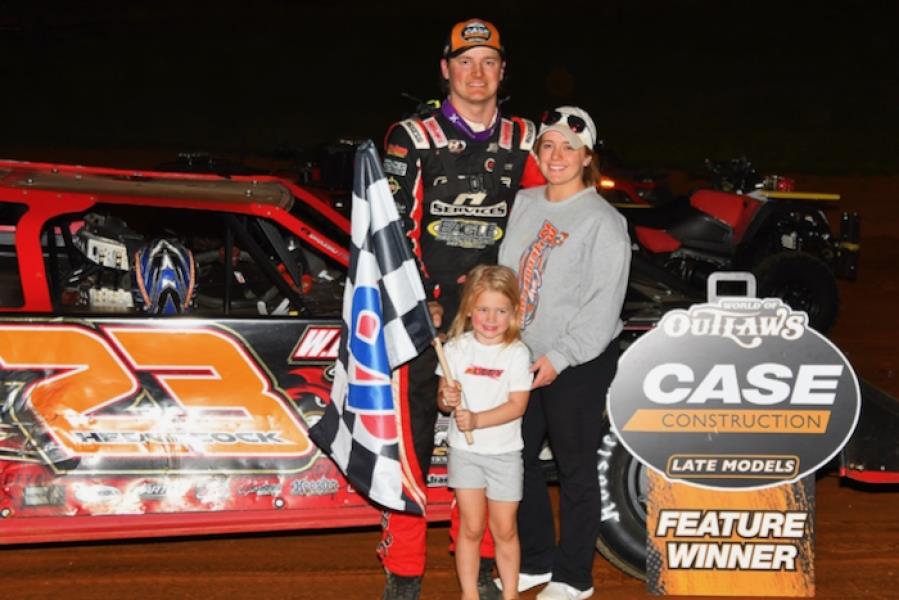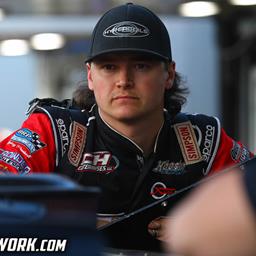 ---
Hedgecock muscles to World of Outlaws triumph at 411; Earns $3,000 at North GA
Another week and two more wins for Cory Hedgecock aboard his W.E. Hardscapes & Masonry / Noble Knights Construction Services / No. 23 Currin Construction / BMF Race Car / Eagle Racing Engine entries.
Cory raced to the $10,000 World of Outlaws (WoO) Case Late Model Series win on Thursday night at Tennessee's 411 Motor Speedway before pocketing $3,000 triumph with the American Crate All-Star Series presented by PPM on Saturday night at North Georgia Speedway.
With the pair of wins, his 2023-victory tally grew to six.
"Man, I love this place," Hedgecock said in Victory Lane at 411 Motor Speedway. "This racetrack just treats me so well. We were just struggling with this car early on, just trying to figure out where we needed to be. But honestly, I think right now, I think tire choice helped us there.
"I think we were one of the very few that did what we did, and that's why I think we were so fast on that restart.
Hedgecock stormed to the lead on a lap 31 restart.
"I got into [McDowell], but I had such a run," Hedgecock said. "Dale didn't fire off good at all on that restart. Bronson was there, and I knew he and I had good cars, and when Marlar fell out, it was like, I think me and Bronson can win the race. And I was like, and it needed to happen now, unfortunately.
"I hate it. I mean, I love Dale to death, but it was just like I didn't know what to do with the run, and I took advantage of it. There's no doubt in my mind he owes me one, and I'll take it. But I'll take the win, too."
Cory Hedgecock broke out his BMF Race Cars No. 23 Super Late Model on Thursday afternoon at 411 Motor Speedway (Seymour, Tenn.) for the World of Outlaws (WoO) Case Late Model Series-sanctioned Seymour Showdown.
With 47 Late Models packed in the pit area, Hedgecock followed up the sixth-fastest qualifying lap in his group with a runner-up performance in his heat.
Making his charge toward the front near the midway point of the 40-lap feature, Cory capitalized on a late-race caution on lap 31 to steal the top spot from Dale McDowell with a third-to-first move in turn one. He went on to capture his second-career World of Outlaws victory and a $10,000 prize ahead of Ricky Thornton Jr., Kyle Bronson, McDowell, and Ricky Weiss.
Aboard his Eagle Racing Engines No. 23 Crate Late Model on Saturday, Cory invaded North Georgia Speedway (Chatsworth, Ala.) to compete with the American Crate All-Star Series for The Ridge and Valley 40.
With a dash victory placing him on the pole for the feature, Hedgecock dominated all 40 laps to record his sixth win of the season and a $3,000 payday. He was followed across the line by Booger Brooks, Seth Wimpey, Chip Brindle, and Brandon Williams.
"We've had a really good three weeks. Hopefully, this turns into the snowball effect," Hedgecock shared following the North Georgia Speedway win.
Full results from the weekend are available at www.WorldofOutlaws.com and www.CrateRacing.com .
Next on tap for Team 23 are a pair of Schaeffer's Oil Spring Nationals events. On Thursday the action opens at Crossville (Tenn.) Speedway with a $7,553-to-win program. Cory will take Friday off, before resuming competition on Saturday at Clarksville (Tenn.) Speedway with a $10,053-to-win affair.
Full event details are available at www.SouthernNationalsSeries.com .
---
Article Credit: MRM Racing Photos
Article Media
Back to News