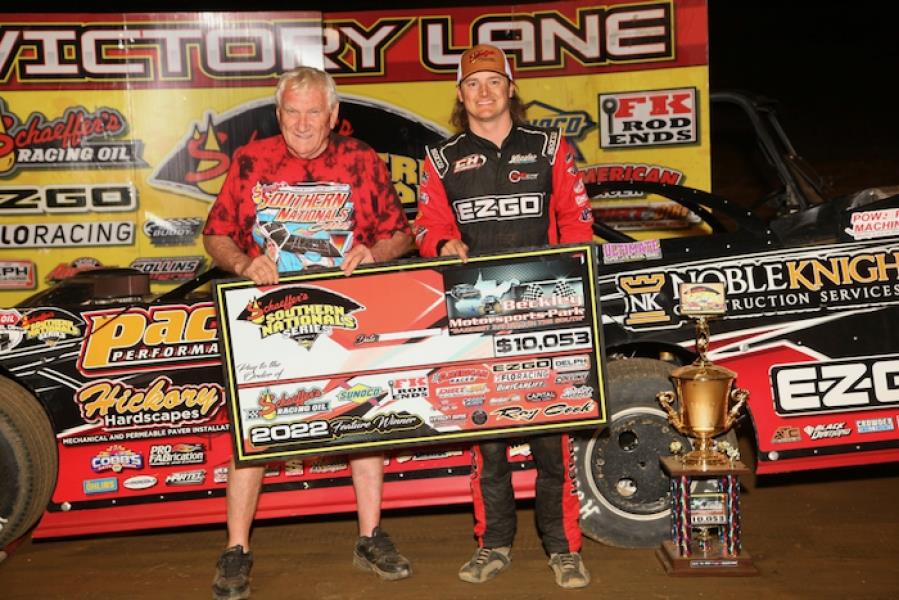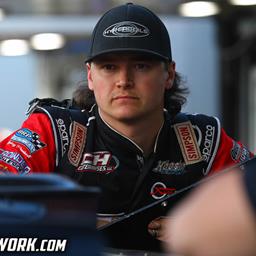 ---
Hedgecock tops Southern Nationals opener at Beckley
Cory Hedgecock topped the opening round of the 2022 Schaeffer's Oil Southern Nationals on Friday night in his E-Z-GO / Noble Knights Construction Services No. 23 Budget Transmission / K&P Used Cars / Black Diamond Race Car / Eagle Racing Engine Super Late Model. (Rick Neff image)
Cory's fourth-career miniseries triumph marked his ninth overall win of the 2022 season. He received $10,053 for his victory.
"We will take them any way we can get them, but who would have thunk it," noted Hedgecock in Schaeffer's Oil victory lane. "This car was just badass all night long. (Ashton) Winger got us in the heat race, but I knew we had a good car. Then we got by Will (Roland) in the feature, and they started having flats in front of me. I finally started to calm down late in the race and man this is just so awesome. We haven't won in a while, but that can flip in an instant, so hopefully we can get on a roll here. I have to thank all of my great sponsors, my family, my wife, and baby."
Cory Hedgecock kicked off his pursuit for the Schaeffer's Southern Nationals championship on Friday afternoon with a visit to Beckley Motor Speedway (Beckley, W.Va.) for the opener of the 12-race tour.
With 32 Late Models entered for the Black Gold 53, Hedgecock laid down the third-fastest time in his group before placing second in his heat. Overtaking the lead on lap 18 of the feature when the leaders suffered a pair of flat tires, Cory went on to capture his ninth win of the season and a $10,053 prize.
He recorded his fourth-career Southern Nationals triumph ahead of Jensen Ford, Zack Mitchell, Will Roland, and Jacob Hawkins.
For another $10,053-to-win A-Main on Saturday afternoon at Wythe Raceway (Rural Retreat, Va.), Cory's third-place finish in his heat pinned him on the fourth row for the feature. Improving five spots in the 53-lap affair, Hedgecock raced to a runner-up finish, which came behind Dale McDowell.
On Sunday afternoon at Volunteer Speedway (Bulls Gap, Tenn.), Hedgecock pulled pitside on lap 42 of the feature with a flat tire and a broken lift-bar after charging up to third from the ninth-starting position. He was credited with a 19th-place finish.
"Sunday night's outcome resulted in my heartbreak and frustration being at an all-time high. I think we had the car to beat, but after I jumped the cushion that all went away. It's part of the game I know, so we'll regroup and get ready for Tuesday at I-75 (Raceway)," Hedgecock said.
Cory is currently tied for second in the latest Schaeffer's Southern Nationals point standings.
The latest series standings and complete results are available at www.SouthernNationalsSeries.com .
Miniseries action continues this week with the following slate:
July 19: I-75 Raceway (Sweetwater, Tenn.) - $4,053 to win
July 21: Senoia (Ga.) Raceway - $4,053 to win
July 22: East (Phenix City) Alabama Motor Speedway - $5,053 to win
July 23: Screven Motor Speedway (Sylvania, Ga.) - $10,053 to win
July 24: Swainsboro (Ga.) Raceway - $10,053 to win
Article Media
Back to News